Solar tower
The Hanwha headquarters office tower based in Seoul, has been remodelled by Dutch architecture firm UNStudio, retrofitting its facade to showcase solar panels produced by Hanwha Group.
Today, designing a building involves much more than simply working out the best way to fill a given amount of space. Architects go deeper than traditional briefs, by creating solutions that are both efficient and effective.

UNStudio, founded by Dutch architects Ben van Berkel and Caroline Bos in 1988, has a particular focus on sustainability and "future-proofing". To reduce the impact on the environment, UNStudio promotes the development and use of innovative materials, by incorporating photovoltaic cells in facades to harvest solar energy and develop construction methods that require fewer resources to create more space.


In 2014, UNStudio won the competition to retrofit Hanwha Group's headquarters, along with engineers from Arup and landscape designer Loos van Vliet. The task was complicated as the office building was fully occupied during the renovation works. The studio worked floor by floor - rebuilding three stories at a time, both on the inside and outside, in order for the rest of the building to continue operating normally.
The Hanwha Group wanted a more sustainable and future-minded office to highlight its position as one of the world's leading producer of solar panels. Clear glass in an aluminium frame replaced the obsolete facade of flat, dark glass.

As aluminium is a durable and long-lasting material, with almost limitless design possibilities, the use of the metal is ideal when creating building façades. This is in addition to aluminium's high corrosion and oxidation resistance qualities, as well as its good conductive properties that provide additional lightning protection during thunderstorms.
The façade of Hanwha Group's headquarters', is designed so the windows are angled away from the direct sunlight, to prevent overheating and glare. Solar panels are also incorporated into the façade at a certain angle in order to catch most of the sunlight, but also shading the windows below.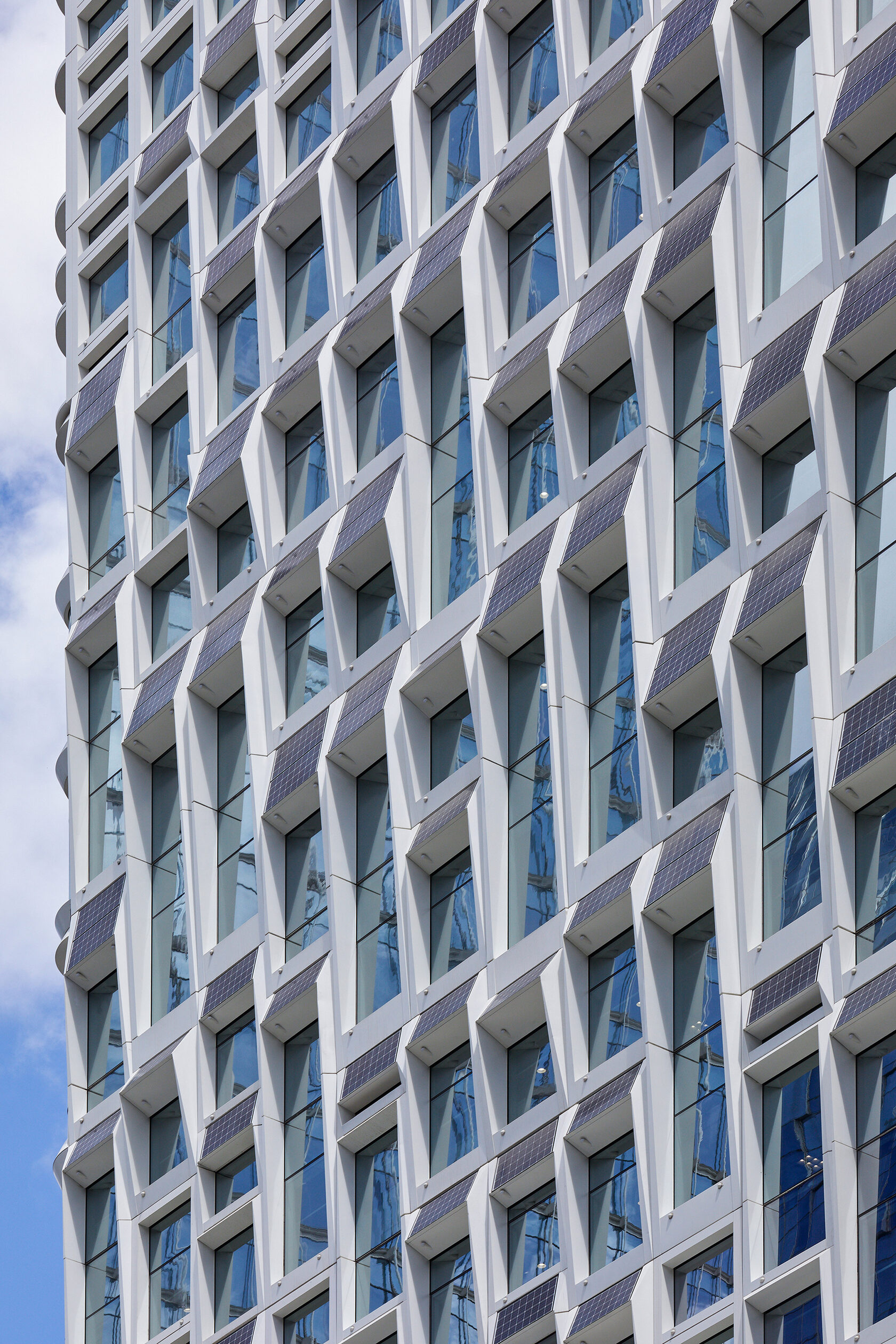 "The facade design for the Hanwha headquarters implements fully inclusive systems which significantly impact the interior climate of the building, improve user comfort and ensure high levels of sustainability and affordability," said UNStudio founder Ben van Berkel.